When it comes to power driving tools, HYTORC sockets are the only answer.
HYTORC sockets are used more often, by more industries on more applications than all other brands combined. When it comes to power driving tools, HYTORC sockets are the only answer. Our sockets are ISO 8001 Quality certified and ISO 14001 certified for their environmental management systems.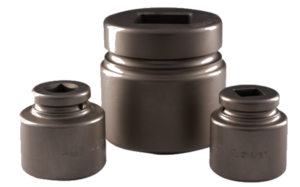 The latest technology is used to calculate optimal socket configurations. Stress simulations also include nut-running elements and fasteners. Breaking & tensile strength, material fatigue, and resistance to wear are verified on test equipment.
Each batch of HYTORC sockets is tested for hardness. A versatile heat treatment department fully equipped for tempering, annealing, casehardening, nitrocarburizing, nitride hardening, and carbon nitriding secures the right properties for our sockets.
Machine-operated sockets shall be marked permanently and legibly.  The coating shall consist of chemically produced oxide coating followed by a coating of rust preventative.  Chrome or nickel plating must not be used for machine-operated sockets.  A fully automated system provides a durable black oxide and rust preventative finish.
INTRODUCING…….The ECO LINE!
The new coating, ECO LINE, has been developed with the aim to protect the environment through an environmentally friendly manufacturing process, but also to help HYTORC's clients worldwide to respond to new environmental targets.
Until today, black oxide has been the most common coating used on impact sockets because paint and chromium is not approved by ISO standards. Years of reasearch and testing has provided that ECO LINE, with its light silver hue, meets or exceeds all the performance characteristics of previous products.
Additionally, the new socket coating has other advantages. For example, improved observation of the socket rotation and code stamping while being used by the operator in cramped and poorly lit surroundings.